Recommend this book:
Sanctuary
Pauline Creeden
2014 Gold Medal
266 Pages
Check current price
Young Adult - Horror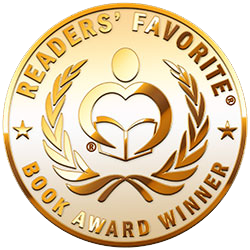 Reviewed by Jack Magnus for Readers' Favorite

Pauline Creeden's Christian fantasy novel, Sanctuary, is the story of Jennie, a young woman whose plans to return to college for her sophomore year are abruptly shattered by her parents' decision to keep her close to them. While they have no problem with her attending a local college for the next year, they are adamant that the family should be kept together. Their reasons are clear, even to Jennie: the earth has been invaded by aliens -- at least the ship remains a fixture of the sky, silvery and spinning. The aliens seem to have done something to the sun, making it less powerful, and, even in August, the weather in Virginia where Jennie and her parents live, feels like late fall. Portions of the earth's water supply have also been contaminated, and many lives in other countries were lost as a result. It all seems distant somehow and not all that relevant to Jennie until later that day when an unusual vibration fills the air and she sees see strange lion-like dogs running through the yard. One attacks her mother, and the family rushes off to the hospital to have her injuries treated.

Sanctuary is a fast-paced Christian fantasy thriller that is original and quite entertaining. The story revolves around Jennie and her family, Pastor Billy and his wife, and two brothers who are polar opposites of each other. Each chapter is presented in the point of view of Jennie, Brad or Hugh (the brothers), which gives Pauline Creedon's Sanctuary, a multidimensional feel. The three different story-lines merge into a full-fledged fantasy/horror novel that never sags or lets up on the action.

While there are Christian themes present in Sanctuary, and Jennie's faith is an important part of who she is, I, a non-Christian, did not feel I was being preached to or proselytized. I recommend Pauline Creedon's Sanctuary -- it's well-written and a lot of fun to read.
Recommend this book:
The Gift
Jonathan Lynch
2013 Silver Medal
308 Pages
Check current price
Young Adult - Horror
Reviewed by Danita Dyess for Readers' Favorite

If you could strike a deal that would make all your problems vanish overnight, wouldn't it? That is exactly what happens in the book "The Gift" by Jonathan Lynch. Michael, the main character, is a pimply-faced, thin, 17-year-old teenager struggling with the daily torment of bullying, poverty and adolescent angst. Better to just end it all, he decides. So, he gobbles a mixture of pills and a bottle of Merlot and waits for death. But it doesn't come. Instead, Lorcien, a 6-foot, mystical man with long, black hair and a knack for transcending walls appears in his apartment. He explains how he interceded Michael's suicide. He calls it a gift. But this bestowal exacts a price, of course. Can you ever reclaim your soul after you haplessly sold it?

This work of fiction has paranormal undertones; Lynch says he grew up reading Stephen King. This intriguing, fast-moving book requires reading some parts twice. I recognized the conflict of man versus himself and good versus evil. I enjoyed the small-town setting and I appreciated the overall simplicity, that is, a teenage boy with an age old problem. Indeed, the birth of Lynch's son inspired this novel. But his masterful narrative technique has made the plot more complex. He is skilled at writing in a conversational tone. He understands the importance of details that help the reader relate to the character. I will read his other book, "Dead Business." "The Gift" is highly recommended.
Contact Author -